EasyRest™ - Heated Pillow Massager
Universal Massage Device For Relieving Muscle Pain and Tension



Suitable for Full Body Massage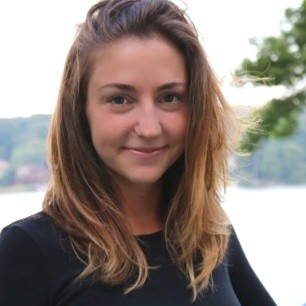 " I'm picky when it comes to massages as I need them to be strong and deep. I'm a student and carry stress that's deep in my traps located between my neck and shoulders. I am so impressed at how deep and strong this massager goes in the tissue. I have noticed reduced pain in my problem area (the trapezius). I feel better waking up the next morning."
This thing is amazing. I've had serious back and neck pain after a car accident. It is small easy to carry with me. I can use it in the car as well. It comes car adapter. You can move it up and down any kind of position your want it. Very satisfied this purchase

A Convenient Way to Relieve Stress & Pain! Fight Headaches, Migraines, Neck Pain!
Melt away aches, tension and knots with EasyRest™ - Infrared Massage Pillow. It relieves muscle stiffness by simulating the effect of a real massage.
The Pillow Massager uses rollers with a rotating action, its snugly fitting area will improve blood circulation and re-oxygenate tensed muscles. Simply plug in your Pillow Massager, choose your preferred speed, and you're ready to relax.
Our massage pillow lets you enjoy a Shiatsu massage basically anywhere! Whether you're at the office, in your car, or at home, take 15 minutes to let go of the stress and tension in your body with four powerful massage nodes. It feels like a real masseur's hands!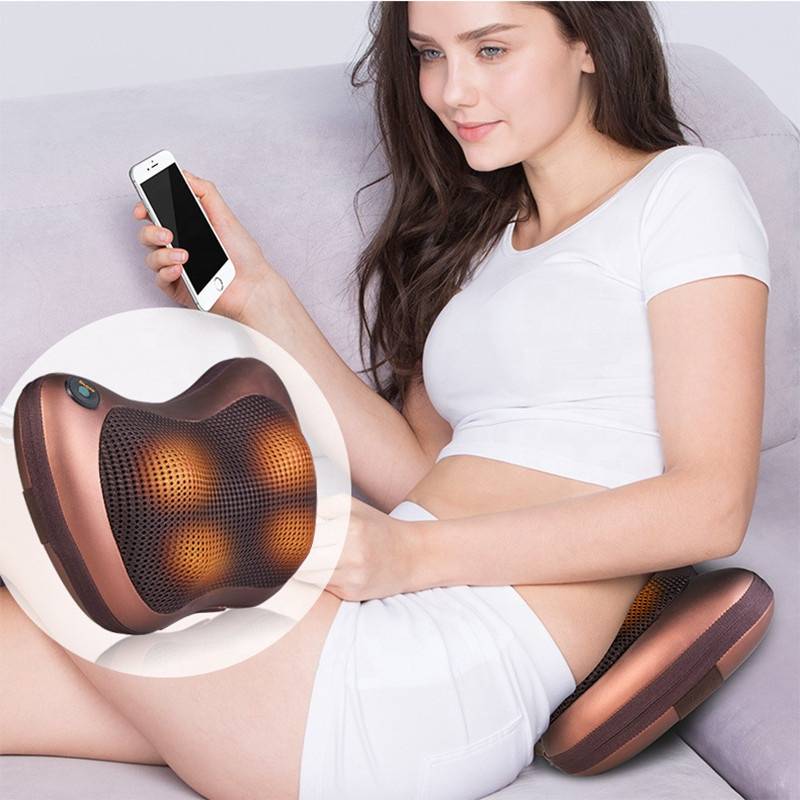 the perfect massage anytime & Anywhere!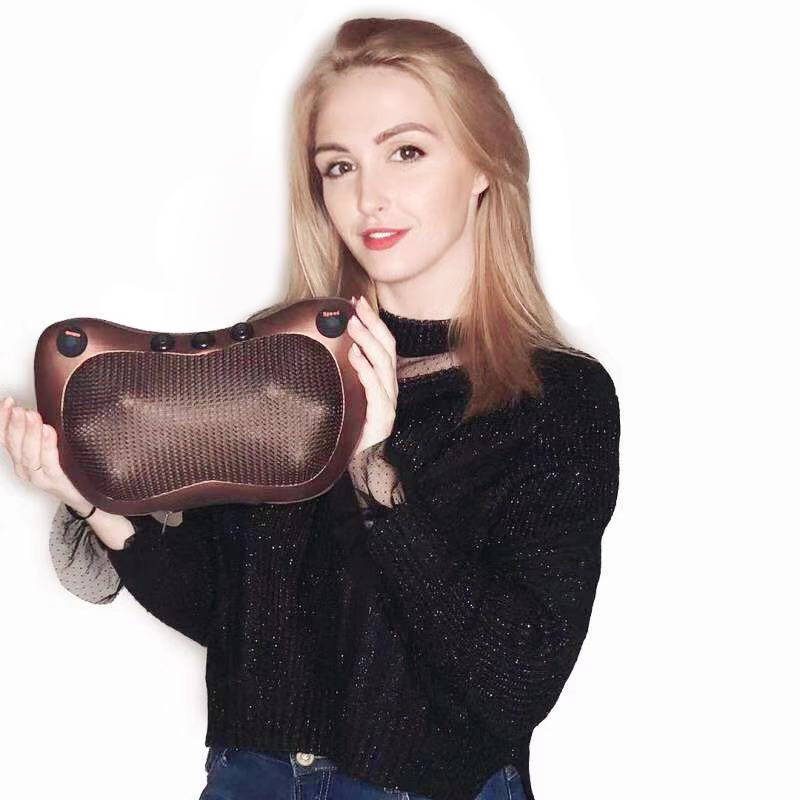 Try it on your neck, back, stomach, legs, feet, and more! Looking for extra muscle-soothing power for exceptionally overworked or tired muscles? Add heat to your massage and improve blood circulation!
Just press the button and you'll enjoy a comforting temperature of 104°F. For safety, the massage pillow automatically turns off after 15-minutes and has overheat protection.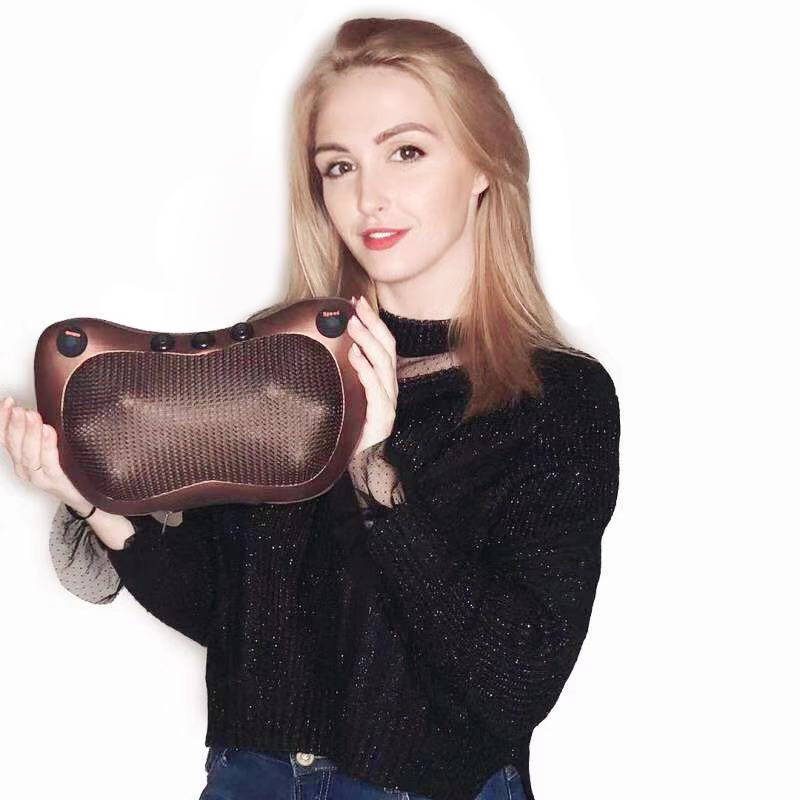 Relieves aches, knots, and muscle tension

Promotes blood circulation to neck and head

Multi-functional Shiatsu Massage Pillow

Versatile Full-Body Decompression Massage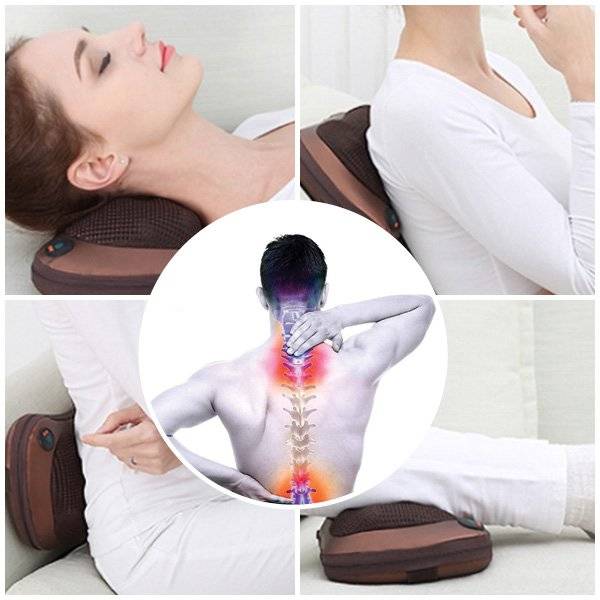 The heating function adds an extra touch of muscle-soothing intensity, helping you relax by enhancing blood circulation and eliminating fatigue
This Shiatsu Kneading massager pillow includes a wall power adapter and a car charger, so you can have an electric self massage in your Home, office or car when you are traveling.
Genuine, Authentic Massage
There are 2 rotating massage points with 4 rollers each that move on all three axis of movement, side to side, up and down, in and out.
Soothes tired muscles, reduces stress and relieves aches and stiffness by imitating the effects of a real massage.
The Massage Pillow can be used to relax and heal any muscle stiffness that you have. You can use it on your legs, hands, neck, and back!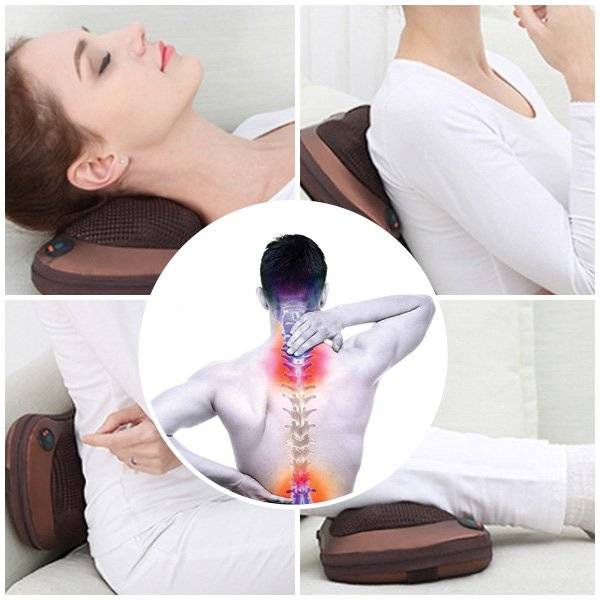 Choose Your Bundle & Save!
Secure one-click checkout with these payment options
Frequently Asked Questions
What's included in the package?
Does it need to be plugged in while using?
Yes, while using the massager the port needs to be connected to an outlet.
How long should I use it for?
The device automatically turns off after 15 minutes of use, which is the duration of treatment we recommend per day. After 1-2 weeks of consistent use, you should be abled to feel a great improvement.
Yes! We 100% stand by the quality of our product. We will be more than happy to replace any defective item free of charge within 1 years from the delivery date of your order
How long do I have to wait before I get my massage pillow?
Our fulfillment partner fulfills orders within 2-4 business days (Mon-Fri), a timeline which does not include Weekends or Holidays.
Estimated shipping time is 10-15 business days
However, factors such as delayed logistics can have an impact on the delivery time.Please remember that the delivery of your order is the responsibility of the shipping carrier (USPS, Fedex).
Still have questions? Send us your question by filling out the form below, we will be happy to assist you.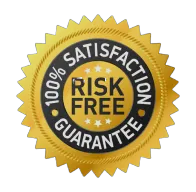 100% MONEY BACK GUARANTEE!
We stand by the quality of our product and are confident that you will be satisfied with our products. That's why we offer a 30-Day Money Back Guarantee on all purchases. If you're not satisfied with your Pillow Massager, simply contact our support team to return your purchase and get your money back.