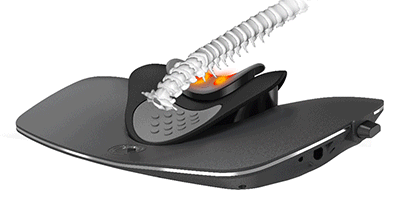 It creates expansion between the head and the neck, separating the vertebrae to relieve pressure, reducing the pressure between discs or off of a compressed nerve, as well as by stretching the surrounding joint structures and muscles, supplying oxygen to the brain by improving blood circulation to the spine.
With its Bidirectional Curve Traction, it pulls apart vertebral space evenly and treats different causes of neck pain, tension, and tightness helping to relax the muscles, which can significantly relieve pain and stiffness while increasing flexibility.
The Multi-Functional Cervical Traction Device features 3 rhythmic automatic modes to adjust and correct neck bone up to 4 inches / 10cm
Comfortable Relaxation Mode



With the help of a controller, each mode combination can be adjusted according to the user's own feelings and preferences.
These improvements may lead to enhanced mobility, range of motion, alignment, and allow you to go about your daily activities with greater ease and comfort.